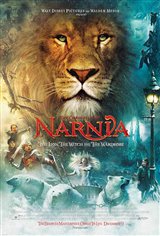 The Chronicles of Narnia: The Lion, the Witch and the Wardrobe
The Chronicles of Narnia: The Lion, the Witch and the Wardrobe
In World War II England, the four Pevensie siblings -- Lucy, Edmund, Susan and Peter -- enter the world of Narnia through a magical wardrobe while playing a game of 'hide-and-seek' in the rural country home of an elderly professor. Once there, the children discover a charming, peaceful land inhabited by talking beasts, dwarfs, fauns, centaurs and giants that has become a world cursed to eternal winter by the evil White Witch, Jadis.
Under the guidance of a noble and mystical ruler, the lion Aslan, the children fight to overcome the White Witch's powerful hold over Narnia.
Based on C.S. Lewis' beloved literary classic.
| | |
| --- | --- |
| Cast: | Tilda Swinton, Georgie Henley, Skandar Keynes, Anna Popplewell, William Moseley, James McAvoy, Jim Broadbent, James Cosmo, Liam Neeson, Ray Winstone, Dawn French, Rupert Everett, Patrick Kake, Kiran Shah, Judy McIntosh |
| Director: | Andrew Adamson |
| Studio: | Walt Disney Pictures |
| Producer(s): | Mark Johnson, Philip Steuer |
| Writer(s): | Ann Peacock, Andrew Adamson, Christopher Markus, Stephen McFeely |
| Official Site: | www.narnia.com/movie/ |