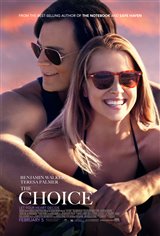 The Choice
Travis Shaw (Benjamin Walker) meets his new neighbor, medical student Gabby (Teresa Palmer), when she accuses his dog of knocking up her female dog. Travis wins her over with his charm but it turns out that Gabby already has a boyfriend.
As the two grow close as friends, Travis begins to fall for her and does all he can to get Gabby to change her mind.
Based on Nicholas Sparks' 2007 novel of the same name.