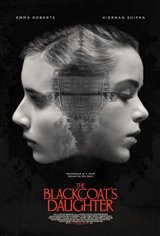 The Blackcoat's Daughter
Kat (Kiernan Shipka) and Rose (Lucy Boynton), students from different grades, are stranded at their prep school after their parents mysteriously fail to pick them up for winter break.
As they wait for answers, a troubled young woman named Joan (Emma Roberts) is making a grim path towards the school. As she closes in, Kat becomes haunted by terrifying visions and possessed by an evil force.
| | |
| --- | --- |
| Cast: | Emma Roberts, Kiernan Shipka, Lucy Boynton, James Remar, Lauren Holly, Greg Ellwand, Elana Krausz, Peter Gray, Emma Holzer, Douglas Kidd, Jodi Larratt |
| Director: | Osgood Perkins |
| Studio: | Highland Film Group |
| Producer(s): | Adrienne Biddle, Alphonse Ghossein, Bryan Bertino, Rob Paris, Robert Menzies |
| Writer(s): | Osgood Perkins |