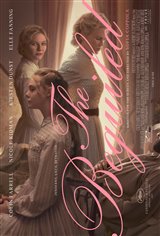 The Beguiled
| 39 Reviews
Write a Review
In Theaters: June 23, 2017
On DVD/Blu-ray: October 10, 2017
The Beguiled
Martha Farnsworth (Nicole Kidman) is the head of a Confederate girls' boarding school located in Virginia during the Civil War. One day, one of the girls, Amy (Oona Laurence), discovers injured Union soldier John McBurney (Colin Farrell) in the woods. She calls Miss Martha, who gets the young man inside and reluctantly tends to his wounds, telling him he'll need to leave as soon as possible.
However, the Irish charmer manages to win over each of the girls during his stay. He focuses his attentions on a teacher, Edwina Dabney (Kirsten Dunst), and convinces her to run away with him. Before they do, she discovers him in another girl's bed and in the heat of the moment, does something rash that leads to regret. 
Loosely based on Tom Cullinan's 1966 novel The Beguiled and adapted from the 1971 film starring Clint Eastwood.