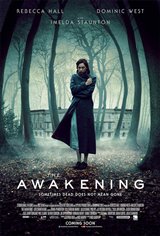 The Awakening (2012)
The year is 1921. England remains dev­astated by the loss of so many lives over the course of the First World War. Modern science continues to make strides, while religious faith and 19th-century spiri­tualism are increasingly marginalized within educated society. There is much to grieve, yet traditional sources of consolation are ruthlessly questioned.
Enter Florence Cathcart (Rebecca Hall), renowned author and debunker of hoaxes using methodical and rational explanations. She's called to Rockwood, a provincial boarding school, to explain away sightings of a phantom boy. Though she's an enlightened and respectful skeptic, what she discovers at the school will prompt her to reconsider her deductive tac­tics—and send her mind spiralling back to a distant, forgotten past.