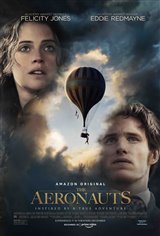 The Aeronauts
In 1862, scientist James Glaisher (Eddie Redmayne) dreams of a future advanced through the study of meteorology and he especially wants to prove to his stuffy colleagues that it's more than a fad. To prove his theory, he decides to go up on a hot air balloon so he can bring back serious atmospheric readings, while also besting the standing French altitude record.
Joining him on the flight is recently widowed pilot Amelia Wren (Felicity Jones), who wants to entertain the thousands of boisterous Londoners who gather to see the liftoff. She does exactly that as the balloon begins to make its ascent by tossing her pet dog, attached to a parachute, out of the basket.
However, as they reach higher altitudes and the temperature drops to five degrees, the aeronauts disagree on whether they should continue upwards or head back down. As snow begins to lightly fall on them, they venture into dangerous territory.
Based on a true story as outlined in the 2013 book Falling Upwards: How We Took To The Air by Richard Holmes.