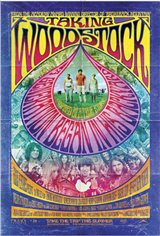 Taking Woodstock
Working as an interior designer in Greenwich Village, Elliot Tiber (Demetri Martin) feels empowered by the gay rights movement. But he is also still staked to the family business—a dumpy Catskills motel called the El Monaco that is being run into the ground by his overbearing parents, Jake and Sonia Teichberg (Henry Goodman and Imelda Staunton). In the summer of 1969, Elliot has to move back upstate to the El Monaco in order to help save the motel from being taken over by the bank.
Upon hearing that a planned music and arts festival has lost its permit from the neighboring town of Wallkill, NY, Elliot calls producer Michael Lang (Jonathan Groff) at Woodstock Ventures to offer his family's motel to the promoters and generate some much-needed business. Elliot also introduces Lang to his neighbor Max Yasgur (Eugene Levy), who operates a 600-acre dairy farm down the road. Soon the Woodstock staff is moving into the El Monaco—and half a million people are on their way to Yasgur's farm for "3 days of Peace & Music in White Lake."
With a little help from his friends, including theater troupe leader Devon (Dan Fogler), recently returned Vietnam veteran Billy (Emile Hirsch), and cross-dressing ex-Marine Vilma (Liev Schreiber)—and with a little opposition from townspeople, including Billy's brother Dan (Jeffrey Dean Morgan)—Elliot finds himself swept up in a generation-defining experience that would change his life—and popular culture—forever.
| | |
| --- | --- |
| Cast: | Demetri Martin, Dan Fogler, Henry Goodman, Jonathan Groff, Eugene Levy, Jeffrey Dean Morgan, Imelda Staunton, Paul Dano, Kelli Garner, Mamie Gummer, Emile Hirsch, Liev Schreiber |
| Director: | Ang Lee |
| Studio: | Focus Features |
| Producer(s): | James Schamus, Ang Lee |
| Writer(s): | James Schamus |
| Official Site: | takingwoodstockthemovie.com |