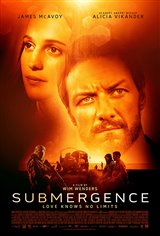 Submergence
Danielle Flinders (Alicia Vikander) and James More (James McAvoy) meet at a hotel in Normandy. Danielle reveals that she's an oceanographer working on a deep sea diving project that involves going to the bottom of the ocean in a submersible, while James tells her he's a water engineer and a descendant of author Thomas More.

After several romantic days together, they have to separate as Danielle embarks on her trip under the sea, while James, who is actually a British Secret Service agent, is sent to Somalia to track down suicide bombers. While there, he's taken hostage by Jihadist fighters and tortured. Thrown into a deep, narrow dungeon, he remembers his time with Danielle in order to keep his spirits up. 
Based on the novel by the same name written by J.M. Ledgard.