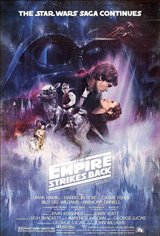 Star Wars: Episode V - The Empire Strikes Back
Hiding from the Empire's fleet of Imperial Star Destroyers, the Rebellion takes refuge on the ice planet of Hoth. While out on patrol, Luke Skywalker (Hamill) is confronted by the spirit of Obi-Wan Kenobi (Guinness), who instructs him to go to Dagobah and seek out the Jedi Master Yoda (Oz). The rebels are discovered, and following a battle with the Empire, Luke leaves the Rebellion to find Yoda, while Princess Leia (Fisher), Han Solo (Ford), Chewbacca (Mayhew) and the droids C-3PO (Daniels) and R2-D2 (Baker) leave Hoth in the Millennium Falcon.
After arriving on Dagobah, Luke begins his training with Yoda to becoming a Jedi Knight. Meanwhile, Darth Vader (Prowse/Jones), dispatches a number of bounty hunters to seek out Princess Leia and her protectors. Boba Fett, one of the hunters, tracks the Millennium Falcon to Cloud City where he devises a trap.
| | |
| --- | --- |
| Cast: | Mark Hamill, Harrison Ford, Carrie Fisher, Alec Guinness, Anthony Daniels, Kenny Baker, Peter Mayhew, Billy Dee Williams, Frank Oz, David Prowse, James Earl Jones, Jeremy Bulloch |
| Director: | Irvin Kershner |
| Studio: | Lucasfilm Ltd. |
| Producer(s): | Gary Kurtz |
| Writer(s): | George Lucas, Leigh Brackett, Lawrence Kasdan |
| Official Site: | www.starwars.com |