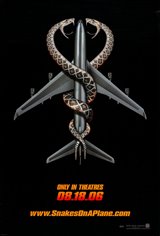 Snakes on a Plane
When a young man (Nathan Phillips) witnesses a brutal mob murder, it falls to FBI agent Neville Flynn (Samuel L. Jackson) to escort his charge safely from Hawaii to Los Angeles to testify.

But in an act of self-preservation, the crime boss facing prison smuggles hundreds of poisonous snakes onto the commercial aircraft in a crate timed to release its deadly cargo halfway over the Pacific.

Flynn, along with a frightened flight crew and passengers, must then band together in a desperate attempt to survive.
| | |
| --- | --- |
| Cast: | Samuel L. Jackson, Julianna Margulies, Nathan Phillips, Bobby Cannavale, Flex Alexander, Todd Louiso, Sunny Mabrey, Kenan Thompson, Rachel Blanchard, Lin Shaye, David Koechner, Elsa Pataky, Taylor Kitsch |
| Director: | David R. Ellis |
| Studio: | New Line Cinema |
| Producer(s): | Craig Berenson, Don Granger, Gary Levinsohn |
| Writer(s): | John Heffernan, Sebastian Gutierrez |
| Official Site: | www.snakesonaplanemovie.com |