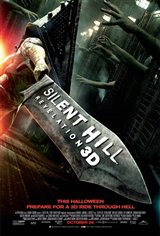 Silent Hill: Revelation
Heather Mason (Adelaide Clemens) and her father, Christopher Da Silva (Sean Bean) have been on the run for years. On the eve of her 18th birthday, Christopher disappears.
Heather discovers her life has all been a lie and travels to an alternative dimension in Silent Hill, where a cult ruled by Claudia Wolf (Carrie-Anne Moss) and Leonard Wolf (Malcolm McDowell) holds power. She must try and escape from the demonic world or be trapped there forever.