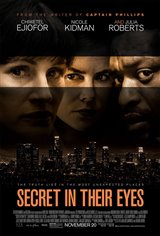 Secret in Their Eyes
Crime investigators Jess (Julia Roberts) and Ray (Chiwetel Ejiofor) are called to investigate a dead body found in a dumpster. When they arrive at the crime scene, they are horrified to discover that the teenage girl who has been brutally murdered is Jess' daughter.
A suspect is found, but he walks due to lack of evidence. Thirteen years later, Ray has a new lead and tracks down the suspect, but Jess wants to serve justice her own way.