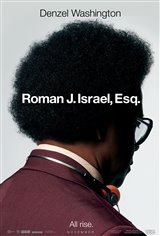 Roman J. Israel, Esq.
| 16 Reviews
Write a Review
In Theaters: November 22, 2017
On DVD/Blu-ray: February 13, 2018
PG-13 | Drama | 2h 9m
Roman J. Israel, Esq.
Roman J. Israel (Denzel Washington) has spent most of his career as a silent partner in a law firm that specializes in criminal cases and pro-bono work, helping out those worst off in Los Angeles. Roman does most of the legal work behind the scenes while his partner, William Jackson, does all of the courtroom arguing. 

When something happens to Jackson, Israel is forced to handle the cases. The loss of his partner leads to many changes around the firm and Israel finds himself in a world completely foreign to him. In an attempt to get back to his roots as a young activist, he tries to help a non-profit, but learns he's out of touch with the issues youth now face. This realization brings him into a world darker than he expected.