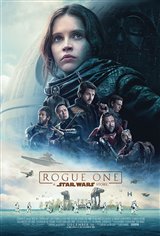 Rogue One: A Star Wars Story
| 217 Reviews
Write a Review
In Theaters: December 16, 2016
On DVD/Blu-ray: April 4, 2017
Rogue One: A Star Wars Story
Jyn Erso (Felicity Jones) has never been one to follow rules. Separated from her parents at an early age, she was taken in by Saw Gerrera (Forest Whitaker). He left her on her own at age 16 and she's had to survive in the galactic underworld by cultivating skills in both fighting and cunning.
When Jyn is arrested by the Rebel Alliance, she is asked by Mon Mothma (Genevieve O'Reilly) to join a team in order to retrieve information about the Death Star — a nearly constructed weapon with the power to destroy an entire planet. If the Death Star's construction is completed, the Empire will become unstoppable.
It's up to Jyn, Cassian Andor (Diego Luna), Bodhi Rook (Riz Ahmed), and their pragmatic droid K-2SO (Alan Tudyk) to form the Rogue One squadron and help bring peace to the galaxy by stealing a technical readout of the Death Star. They eventually join forces with assassin Baze Malbus (Jiang Wen) and his spiritual partner Chirrut Imwe (Donnie Yen).
They're up against some stiff competition. Orson Krennic (Ben Mendelsohn) is an Imperial military director who will stop at nothing to see the Death Star's completion, while Darth Vader (James Earl Jones) maintains a watchful eye on the weapon.
Rogue One: A Star Wars Story is a prequel to the original Star Wars movie - Star Wars Episode IV: A New Hope.
| | |
| --- | --- |
| Cast: | Felicity Jones, Diego Luna, Ben Mendelsohn, Donnie Yen, Jiang Wen, Mads Mikkelsen, Alan Tudyk, Riz Ahmed, Forest Whitaker, Genevieve O'Reilly, Geraldine James, Alistair Petrie, Beau Gadsdon, Dolly Gadsdon |
| Director: | Gareth Edwards |
| Studio: | Walt Disney Pictures |
| Producer(s): | Kathleen Kennedy, Allison Shearmur, Simon Emanuel |
| Writer(s): | Chris Weitz, Tony Gilroy |
| Official Site: | starwars.com/rogue-one/ |