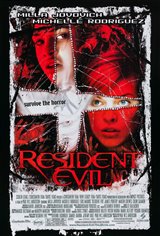 Resident Evil (2002)
In a vast underground genetic research facility, a deadly viral outbreak occurs, and in response, the Red Queen - a vast supercomputer that controls and monitors the Hive - seals the entire facility to contain the leak, turning all the employees into ravenous, zombie-like Undead, prowling the facility.

A group of commandos led by Alice (Jovovich) and Rain (Rodriguez) are sent in to isolate the virus. They soon discover that one bite or scratch from an Undead causes infection and instant transformation into their kind. The military task force have three hours to access the Red Queen, via a series of increasingly horrifying obstacles, and complete their mission before the Undead threaten to overrun the Earth.

Based on the popular video game of the same name.
| | |
| --- | --- |
| Cast: | Milla Jovovich, Michelle Rodriguez, Eric Mabius, James Purefoy, Martin Crewes, Colin Salmon, Ryan McCluskey, Anna Bolt, Joseph May, Robert Tannion, Jaymes Butler, Stephen Billington, Pasquale Aleardi, Liz Brice, Torsten Jerabek, Marc Logan-Black, Michaela Dicker |
| Director: | Paul W.S. Anderson |
| Studio: | Columbia Pictures |
| Producer(s): | Bernd Eichinger, Paul Anderson, Jeremy Bolt, Samuel Hadida |
| Writer(s): | Paul Anderson |
| Official Site: | www.spe.sony.com/movies/residentevil |