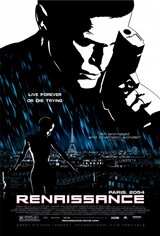 Renaissance
In 2054, Paris is a labyrinth where all movement is monitored and recorded. Cut off from the world for its own protection, the city has nonetheless continued to expand. Below street level, a sophisticated network of stream-lined plazas push up against the city's ancient, deteriorating tunnels. Creating a shadow over everything is the city's largest company, Avalon, which insinuates itself into every aspect of contemporary life to sell its primary export -- eternal youth and beauty.

When 22-year-old Ilona (Romola Garai), one of Avalon's most promising scientists, is kidnapped, Avalon calls on Barthélémy Karas (Daniel Craig), a Paris cop with a reputation for finding anyone. As the trail gets hot, Karas senses he's not the only one looking for the beautiful enigma, as every witness he digs up seems to turn up dead.

If Avalon vice president Paul Dellenbach (Jonathan Pryce) knows anything about the mysterious project Ilona may have been involved with -- something called the Renaissance Protocol -- he isn't talking.

To find Ilona and unlock the secrets of her disappearance, Kara must plunge deep into the parallel worlds of corporate espionage, organized crime and genetic research where the truth imprisons whomever finds it first and miracles can either save the world, or end it.