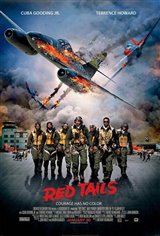 Red Tails
As World War II rages, the black pilots of the experimental Tuskegee training program have to fight racial discrimination within the military. Ace airman Martin "Easy" Julian (Nate Parker) and his black pilots back at base are left with little to do but perfect their flying skills, while white airmen are shipped out after just three months of training.
Considered inferior, the Tuskegee airmen are assigned second-rate planes and missions, as the war takes a harsh toll on the Allied forces. Just as the program is about to be shut down and the men shipped back home, Pentagon brass realize they have no choice but to rethink their stance. Colonel A.J. Bullard (Terrence Howard) steps in to give them a chance to prove their mettle high above.
They're assigned the task of providing safe escort to bombers in broad daylight—a mission so dangerous that the RAF refused it, while white fighter groups have sustained substantial losses. Against all the odds the young airmen take to the skies on a heroic mission to combat not only the enemy, but the discrimination that kept them down for so long.
| | |
| --- | --- |
| Cast: | Cuba Gooding, Jr., Terrence Howard, Bryan Cranston, Nate Parker, David Oyelowo, Tristan Wilds, Ne-Yo , Marcus T. Paulk, Daniela Ruah |
| Director: | Anthony Hemingway |
| Studio: | Lucasfilm |
| Producer(s): | Rick McCallum, Charles Floyd Johnson |
| Writer(s): | John Ridley |
| Inspiration: | Tuskegee Airmen |
| Official Site: | facebook.com/redtails/ |