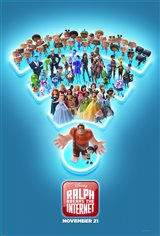 Ralph Breaks the Internet
Vanellope (Sarah Silverman) feels stuck in the same old routine, so Ralph (John C. Reilly) makes changes to her racing game, which inadvertently causes the steering wheel to break. Because the game is so old, parts for it are hard to get and the only place where the wheel can be found is on an eBay auction, where the starting bid is $200. However, the owner says that's too expensive, because the game doesn't earn much anymore. He decides to ditch the unit, leaving Vanellope and the other racers without a game.

Ralph feels bad for his despondent best friend, so he figures out a way to get into the Internet using the new wi-fi router that was just installed, so they can get to eBay to buy the steering wheel. They make their way through the internet, where they discover a multitude of new friends, including Disney princesses such as Merida (Kelly Macdonald), Rapunzel (Mandy Moore), Moana (Auli'i Cravalho), Mulan (Ming-Na Wen), Anna (Kristen Bell) and Elsa (Idina Menzel).