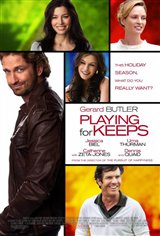 Playing for Keeps
George (Gerard Butler) once had it all—fame, fortune, a professional soccer career and a beautiful wife (Jessica Biel). But when a knee injury forces him off the field for good, he winds up losing more than just his career. His wife takes their young son and leaves because of George's selfish and irresponsible behavior and the fallen star is reduced to making sports casting demo tapes in his guest house just to make ends meet.
When the opportunity arises to take over coaching their son's losing soccer team, George takes uses the gig to try and redeem himself. The only problem is, he can't seem to avoid getting caught up in the messed up lives of his players' families—like the father (Dennis Quaid) who throws money at him for favors, the wife (Uma Thurman) who manages to make her way into his bed while he's out, or the mother (Catherine Zeta-Jones) who bribes him into sleeping with her by offering him his dream job.
In between trying to stay out of trouble and landing a respectable job with a sports network, George struggles to reconnect with his family, who are already on the brink of losing any faith in him as a father.