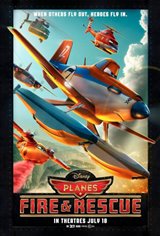 Planes: Fire & Rescue
World-famous air racer Dusty Crophopper (Dane Cook) finds out his racing days have come to an end when his engine is damaged. Undaunted, he learns about the world of aerial firefighting and decides to join them.
Dusty teams up with veteran fire and rescue helicopter Blade Ranger (Ed Harris) and his team, a group of all-terrain vehicles collectively known as The Smokejumpers. Together, the fearless team battles a massive wildfire, and Dusty finds out what it takes to be a true hero.
| | |
| --- | --- |
| Cast: | Dane Cook, Ed Harris, Julie Bowen, Curtis Armstrong, John Michael Higgins, Hal Holbrook, Wes Studi, Brad Garrett, Teri Hatcher, Stacy Keach, Cedric the Entertainer, Danny Mann, Barry Corbin, Regina King, Anne Meara, Jerry Stiller, Fred Willard, Patrick Warburton, Rene Auberjonois, Brent Musberger, John Ratzenberger |
| Director: | Bobs Gannaway |
| Studio: | Walt Disney Pictures |
| Producer(s): | Ferrell Barron |
| Writer(s): | Bpbs Gammawau. Jeffrey M. Howard |
| Official Site: | disney.com/planes |