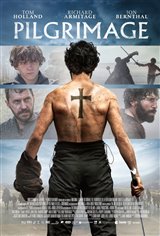 Pilgrimage
In 1209 on the shores of Ireland, a monk named Brother Geraldus (Stanley Weber) convinces a local order of brothers to surrender their Holy relic. Geraldus wishes to use this relic as a source of righteous power for the Vatican.
Sent to accompany the rock on its pilgrimage to Rome are Brothers Ciaran (John Lynch), Cathal (Hugh O'Conor), Rua (Rúaidhrí Conroy) and young Diarmuld (Tom Holland), who has a kind heart and treats their mute servant (Jon Bernthal) with dignity.
However, the brothers find themselves unable to escape Ireland. There are enemies seeking to take the valuable prize they have in their possession.