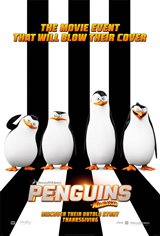 Penguins of Madagascar
The Penguins of Madagascar—Skipper, Kowalski, Rico and Private—face their biggest challenge yet when an evil scientist, Dr. Octavius Brine (John Malkovich), is determined to eliminate their species. They are unhappily forced to work with an undercover group of animals, led by a husky named Agent Classified (Benedict Cumberbatch).
When the two groups come to a head, the Penguins of Madagascar decide face off with Dr. Octavius by themselves in order to save the entire penguin race.
| | |
| --- | --- |
| Cast: | Tom McGrath, Chris Miller, Christopher Knights, Benedict Cumberbatch, Ken Jeong, Annet Mahendru, Peter Stormare, John Malkovich, Billy Eichner |
| Director: | Eric Darnell, Simon J. Smith |
| Studio: | 20th Century Fox |
| Producer(s): | Mark Swift, Lara Breay |
| Writer(s): | John Aboud, Michael Colton |
| Official Site: | madagascar.dreamworks.com |