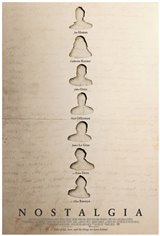 Nostalgia
| 0 Reviews
Write a Review
In Theaters: February 16, 2018
On DVD/Blu-ray: May 1, 2018
R | Drama | 1h 54m
Nostalgia
When Ronald Ashemore's (Bruce Dern) pregnant granddaughter Bethany (Amber Tamblyn) asks insurance assessor Daniel Kalman (John Ortiz) to go to her grandfather's home to assess the potential monetary value of his belongings, he's amazed by the vast collection of artifacts the man has amassed over decades.

Although the books, photos and countless random objects, are of questionable financial value, Daniel suggests to Bethany that there might be some items that could hold emotional value for her, which strikes a chord in the mother-to-be.

Daniel next tours the wreckage of the home of Helen (Ellen Burstyn), an elderly widow, which burned to the ground, taking almost all her belongings and memories with it. The only things she was able to save were a few items of heirloom jewelry and a 1940s baseball that was prized by her late husband.  

Helen contacts  memorabilia dealer Will Bleam (Jon Hamm), a reputable memorabilia dealer, to find out if the baseball has any monetary value. Helen discovers that the ball – autographed by legendary slugger Ted Williams – is worth a tidy sum. 

Meanwhile, when their childhood home goes up for sale, Will and his sister Donna (Catherine Keener) are tasked with going through their parents' belongings and getting rid of the clutter. The siblings share memories as they go through the items they grew up with. But a sudden and shocking tragedy changes things, leaving Donna emotionally shattered and Will searching for comfort as he goes through the artifacts from his family's past.
| | |
| --- | --- |
| Cast: | Ellen Burstyn, Bruce Dern, Jon Hamm, Catherine Keener, Christopher Marquette, Hugo Armstrong, Annalise Basso, John Ortiz, Amber Tamblyn, Nick Offerman |
| Director: | Mark Pellington |
| Studio: | |
| Producer(s): | Mark Pellington, Tom Gorai |
| Writer(s): | Alex Ross Perry, Mark Pellington |