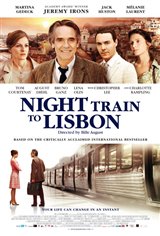 Night Train to Lisbon
Latin teacher and ancient languages expert Raimund (Jeremy Irons) has a mysterious encounter with a young woman on a bridge in the Swiss city of Bern, when he saves from jumping to her death in the waters below. She immediately disappears, leaving only her coat behind.
Inside one of the pockets is a book with a train ticket tucked in it. He uses the ticket, setting off on a journey to Lisbon. While looking for the author of the book, Raimund revisits a dark chapter in the country's history and unveils a tragic love triangle.
| | |
| --- | --- |
| Cast: | Jeremy Irons, Mélanie Laurent, Jack Huston, Martina Gedeck, Tom Courtenay, August Diehl, Bruno Ganz, Lena Olin, Christopher Lee, Charlotte Rampling |
| Director: | Bille August |
| Studio: | Pacific Northwest Pictures |
| Producer(s): | Gunther Russ, Kerstin Ramcke, Peter Reichenbach |
| Writer(s): | Greg Latter, Ulrich Hermann |
| Official Site: | www.nighttrain-film.com |