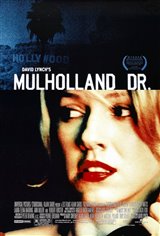 Mulholland Dr.
In this sexy thriller, a number of interwoven stories center around a woman (Harring), who's just survived a car accident on Mulholland Drive but has suffered amnesia. The woman is then taken in by an aspiring actress from Deep River, Ontario (Watts) who tries to help her remember who she really is.

There are certain David Lynch recurring obsessions which pop up in most of his films. They can be found in Mulholland Drive as well: a mysterious entity which controls everything that happens, a person or persons who come into your life and take over, red velvet curtains, hotel rooms/apartments, a phone ringing in an empty room, and, most importantly perhaps, good coffee.

Notes: David Lynch's long-time music composer, Angelo Badalamenti, makes a surprise cameo appearance as one of the Castigliane brothers. The film is dedicated to the memory of Jennifer Syme, a girlfriend of Keanu Reeves' and a one-time personal assistant to David Lynch.
| | |
| --- | --- |
| Cast: | Dan Hedaya, Robert Forster, Justin Theroux, Naomi Watts, Laura Harring, Ann Miller, Mark Pellegrino, Brian Beacock, Katharine Towne, Lee Grant, Chad Everett, Kate Forster, Marcus Graham, Sean E. Markland, Monty Montgomery, Johanna Stein |
| Director: | David Lynch |
| Studio: | Universal Focus |
| Producer(s): | Alain Sarde, Joyce Eliason, Mary Sweeney, Michael Polaire, Neal Edelstein, Tony Krantz |
| Writer(s): | David Lynch |
| Official Site: | www.mulhollanddrive.com |