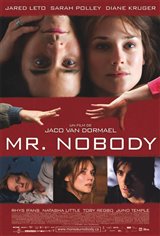 Mr. Nobody
The present day, more or less. Nemo is 35 years old, married to Elise, with two children. An ordinary man. But life's turning strange: billboards flash messages addressed only to him; on the streets, he passes strangers with his face; behind the facade of a half-constructed building, he sees helicopters lifting enormous blocks of the ocean... Nemo wakes to find himself trapped in his car, drowning. He wakes again, and dies again. And wakes again... by a swimming pool in the grounds of an opulent mansion. With a new wife and new children, whom he does not recognize. Another dream?
It's the year 2092. Mars is the number one holiday destination; genetic advances have rendered natural death obsolete. In hospital, as the world's media looks eagerly on, an old man is dying. The last mortal on earth, he is 120 years old. He doesn't know it, but his name is Nemo. His memory has gone, wiped clean by age. But slowly, under hypnosis, fragments of the past begin to emerge.
As Old Nemo recalls his pasts, an infinity of lives is revealed—he has been a thousand men, and no one. He has lived a thousand lives, and none at all. "Everything could have been anything else and it would have just as much meaning", he tells a young journalist. "We live in the imagination of a seven-year-old child who is faced with an impossible choice."