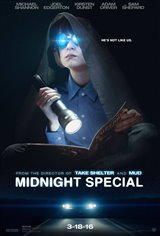 Midnight Special
Roy (Michael Shannon) goes on the run with a friend (Joel Edgerton) to protect Roy's young son Alton (Jaeden Lieberher) and to uncover the truth behind the boy's special powers.
Alton wears goggles to keep his powers in check as they run from government agents who think he's a weapon, and religious extremists who think he's a savior. He sleeps during the day to protect his eyes from the sunlight, and they travel by night.
On the way to the home of Alton's mother Sarah (Kirsten Dunst), they have to dodge the authorities, who have an Amber Alert out in order to capture Alton and find out the truth behind his special powers.