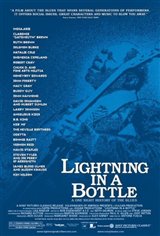 Lightning in a Bottle
On February 7th, 2003, renowned artists across multiple music genres and generations commandeered the stage at New York City's Radio City Music Hall to pay tribute to their common heritage and passion -- the blues. With thousands of fans in attendance, legendary performers from roots, rock, jazz and rap joined forces for a once-in-a-lifetime "Salute To The Blues" benefit concert whose proceeds went to musical education. A history of the blues is woven through the juxtaposition of performances, backstage interviews, rehearsals and archival clips of some of the greatest names in American music, from blues royalty like Buddy Guy, and B.B. King, to their musical heirs ranging from John Fogerty and Bonnie Raitt to Mos Def and India.Arie.

The story begins in the week leading up to the concert -- including rehearsals and back-stage footage -- and the concert itself: a night where the mix of competition and generosity among the more than 50 illustrious artists pushed all of their performances to dizzying heights. The concert itself takes the viewer through the historical and geographical journey of the blues, beginning with its roots in Africa, up through the Mississippi Delta into the cities of Memphis and Chicago in the 1950s and '60s. It follows the music to England and back to the USA and ultimately out to the world through contemporary rock 'n' roll and hip-hop. At times, the film looks into the lives of its writers and performers who have endured the pain of racism and poverty and managed to transform their experiences into a brilliant music. The Blues is endowed with a remarkable ability to connect with universal feelings of desire, love, loss and bitter disappointment. In the journeys of these artists in this concert, you see the music for what it truly is: a road map to the human soul.
| | |
| --- | --- |
| Cast: | Aerosmith , Angelique Kidjo, Arts Militia, B.B. King, Bill Cosby, Bonnie Raitt |
| Director: | Antoine Fuqua |
| Studio: | Sony Pictures Classics |
| Producer(s): | Alex Gibney, Jack Gulick, Margaret Bodde |