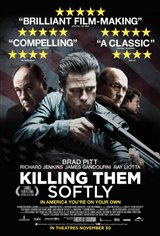 Killing Them Softly
Frankie (Scoot McNairy) and Russell (Ben Mendelsohn), two not-too-bright ex-cons, are hired by John "The Squirrel" Amato to disrupt a high-stakes backroom poker game, rob the players and frame someone else for the job. That someone else is the card game's manager Markie Trattman (Ray Liotta), who's suspected of staging a previous poker robbery.
Unfortunately, the game was under the protection of the mob, whose lawyer (Richard Jenkins) is ordered to find those responsible and take care of them. He hires hitman Jackie Cogan (Brad Pitt) to track down the small-time punks.
The film is based on the 1974 crime novel Cogan's Trade by George V. Higgins. However, director/writer Andrew Dominik decided to update the setting of the story from Boston to New Orleans.
| | |
| --- | --- |
| Cast: | Brad Pitt, Ray Liotta, Richard Jenkins, James Gandolfini, Sam Shepard, Scoot McNairy, Max Casella, Bella Heathcote, Garret Dillahunt, Ben Mendelsohn |
| Director: | Andrew Dominik |
| Studio: | Inferno |
| Producer(s): | Dede Gardner, Steve Schwartz, Paula Mae Schwartz, Walt Klink |
| Writer(s): | Andrew Dominik |
| Official Site: | killingthemsoftlymovie.com |