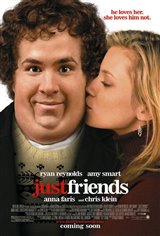 Just Friends
Chris Brander (Ryan Reynolds) has it all -- money, good looks and a flashy job as an LA music executive. But things weren't always this way...

In high school Chris was shy and overweight. The bright spot in his life was his friendship with Jamie Palamino (Amy Smart), the hottest girl in high school. The two best buds were inseparable. But Chris harbored a secret -- he was hopelessly in love with Jamie. On the night of their graduation, Chris finally works up his courage and comes clean. A surprised Jamie tells Chris that she loves him too... like a brother. Then comes the dreaded "Just Friends" speech. Angry and humiliated, Chris storms off.

Ten years later, Chris has reinvented himself as a smooth talking lady killer, living large in Los Angeles. Chris's boss, KC (Stephen Root), has just given him his most challenging assignment yet -- turning spoiled diva Samantha James (Anna Faris) into a pop-singing sensation. Wrangling the high-maintenance singer, who also happens to be his ex, seems a hellish task. But Chris's nightmare is just beginning.

A plane malfunction, en route to Paris, causes Chris and Sam to make an unexpected pit-stop in New Jersey -- the first time Chris has been back home in 10 years. Chris drops in on his mom (Julie Hagerty) and smart-aleck brother, Mike (Christopher Marquette). Chris' plans to leave town are detoured when he runs into Jamie at a local bar. Suddenly faced with the chance to "seal the deal" with the "just friends" girl of his dreams, Chris postpones Paris. This sets off a chain of events in which Chris tries to woo Jamie, all the while distracting the suspicious Samantha. Unbelievably, Chris is finding it more difficult to romance Jamie than it was 10 years ago.

The harder Chris tries, the further he slips into the 'friend zone.' .When Dusty Dinkleman, (Chris Klein) another 'just friends' guy from high school shows up, Chris' fate seems doomed. Can he escape the 'friend zone'? Is it possible to go from 'just friend' to boyfriend? Chris is about to find out the hard way...