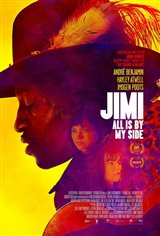 Jimi: All is by My Side
Set in 1966 to 67, the film covers a year in Jimi Hendrix's life. Starting as an unknown backup guitarist playing New York's Cheetah Club, the film follows him making a mark in London's music scene up to his triumph at Monterey Pop Festival in June 1967.
Jimi: All is by My Side is an intimate portrait of the sensitive young musician on the verge of becoming a rock legend – about a man growing up, falling in love and becoming Jimi. Director John Ridley brings authenticity and reveals a poignant and touching image of the man behind the legend.