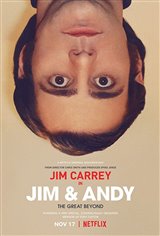 Jim & Andy: The Great Beyond - Featuring A Very Special, Contractually Obligated Mention of Tony Clifton
Jim & Andy: The Great Beyond - Featuring A Very Special, Contractually Obligated Mention of Tony Clifton
When Jim Carrey was hired to play late comedian Andy Kaufman in Milos Forman's 1999 bio pic Man on the Moon, Kaufman's former girlfriend, Lynne Margulies and former writing partner, Bob Zmuda, captured approximately 100 hours of footage shot on the set, documenting Carrey's transformation into Kaufman.

Director Chris Smith takes a look at Carrey's time spent portraying the troubled and complicated comedian/performance artist. Carrey earned critical acclaim and a Golden Globe for the performance, but many of the production's most Kaufmanesque moments played out behind the scenes.

In Jim & Andy, Carrey reflects on how he and Kaufman rose to fame in oddly parallel universes, his experience channelling Andy and Tony Clifton, one of the complex characters Andy played, and more broadly the spiritual journey of his career.