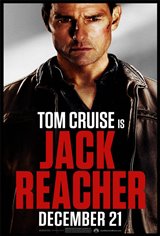 Jack Reacher
When six shots ring out during rush hour and five random people are left dead, a city is thrown into chaos. The evidence leads police to former Army Sniper James Barr, who tells police they have the wrong man and asks for Jack Reacher to be brought in. Suddenly what seemed like a simple case become complex.
Reacher, a former Army Military Police officer, doesn't care about proof or the law, he only cares about what's right. He and Barr served in the military together and during their time in the Gulf War, Barr murdered four people and walked free on a technicality.
Based on that experience, Reacher believes Barr, who has been beaten so badly he can't even remember the day of the murders, is guilty. He meets a young defense lawyer named Helen Rodin who wants to save Barr from the death penalty.
Reacher knows the shooter missed one shot on purpose and he learns that in three years at a practice range, Barr never missed a target. Helen analyzes the clues and tries to convince Reacher that Barr could be innocent. As Reacher gets closer to learning the truth, someone tries to get Reacher off the case.
| | |
| --- | --- |
| Cast: | Tom Cruise, Rosamund Pike, Robert Duvall, Richard Jenkins, Werner Herzog, David Oyelowo, Jai Courtney |
| Director: | Christopher McQuarrie |
| Studio: | Paramount Pictures |
| Producer(s): | Gary Levinsohn, Paula Wagner, Kevin J. Messick, Don Granger, Tom Cruise, David Ellison, Dana Goldberg |
| Writer(s): | Christopher McQuarrie, Josh Olson |
| Official Site: | jackreachermovie.com |