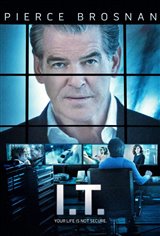 I.T.
| 1 Reviews
Write a Review
In Theaters: September 23, 2016
On DVD/Blu-ray: December 20, 2016
I.T.
Successful, self-made man Mike Regan (Pierce Brosnan) owns his own company. While giving an important presentation, the computer system crashes, bringing the presentation to a sudden halt. One of his employees gets hold of a temporary I.T. consultant, Ed Porter (James Frecheville), who manages to get the system up and running.
Mike then asks Ed to come over to his house to have a look at his home internet connection. Ed notes that the built-in cameras have been disabled, and Mike explains that he likes his privacy. Unbeknownst to Mike, Ed enables the cameras so he can spy on his family. But when Ed drops over for a seemingly friendly visit, saying Mike's daughter texted him, Mike turns him away. Next thing he knows, the company is hacked and Mike finds himself in a deadly, high-stakes game of cat-and-mouse with Ed.