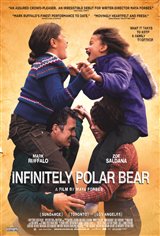 Infinitely Polar Bear
Despite Cameron Stuart's (Mark Ruffalo) manic depression, Maggie (Zoe Saldana) falls in love with him. Fast forward a few years and they're married with two young daughters. Cameron has been diagnosed with manic depression and is therefore unemployable in 1978 Boston.
Maggie is offered a scholarship to pursue her business degree in New York, but she can't take care of the girls and doesn't want to move them. She asks Cameron to take care of them on his own and promises to come home on weekends. It takes a lot of convincing, but Cameron finally reluctantly agrees. What follows is almost two years of Cameron struggling to cope with his condition as he tries to be a responsible parent.