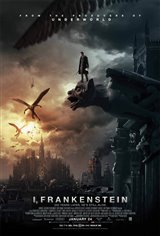 I, Frankenstein
Two hundred years after his shocking creation, Dr. Frankenstein's creature (Aaron Eckhart), still walks the earth. Saved years earlier by angelic gargoyles from demons, he was named Adam. Although the gargoyles ask for his help to keep the demon prince, Naberius (Bill Nighy) from taking over the world, Adam goes off on his own.
That is, until he realizes he hold the key to stopping the demons, who want to destroy him. As a host of frightening supernatural creatures are looking to rise up and take over, Adam uses his great strength to fight against them.
Based on the Darkstorm Studios graphic novel created by Kevin Grevioux.
| | |
| --- | --- |
| Cast: | Aaron Eckhart, Bill Nighy, Yvonne Strahovski, Miranda Otto, Socratis Otto, Jai Courtney, Kevin Grevioux |
| Director: | Stuart Beattie |
| Studio: | Lionsgate |
| Producer(s): | Gary Lucchesi, Sidney Kimmel, Tom Rosenberg, Richard S. Wright, Andrew Mason |
| Writer(s): | Kevin Grevioux, Stuart Beattie |
| Official Site: | www.ifrankensteinfilm.com |