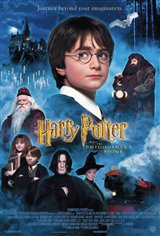 Harry Potter and the Philosopher's Stone
On his 11th birthday, Harry Potter (Daniel Radcliffe), who has been living with his cruel and abusive aunt and uncle, gets a letter informing him that he has been accepted into Hogwarts School of Witchcraft and Wizardry. Although he'd realized over the years that he was different from other boys, he didn't know that not only were his parents wizards, but that he is destined to become a powerful wizard himself.
At Hogwarts, he makes friends with Ron Weasley (Rupert Grint), who comes from a long line of wizards, and Hermione (Emma Watson), whose parents are Muggles (non-wizards). While there, Harry also uncovers the secret of the Philosopher's Stone, and is forced into a dangerous confrontation with Voldemort—the evil wizard who murdered his parents.
Based on the first book in the popular series of books by J.K. Rowling.
| | |
| --- | --- |
| Cast: | Daniel Radcliffe, Rupert Grint, Emma Watson, John Cleese, Robbie Coltrane, Warwick Davis, Richard Griffiths, Richard Harris, Ian Hart, John Hurt, Alan Rickman, Fiona Shaw, Maggie Smith, Julie Walters |
| Director: | Chris Columbus |
| Studio: | Warner Bros. Pictures |
| Producer(s): | David Heyman |
| Writer(s): | Steven Kloves |
| Inspiration: | J.K. Rowling |
| Official Site: | harrypotter.warnerbros.com |