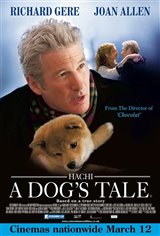 Hachi: A Dog's Tale
College professor Parker Wilson (Richard Gere) finds an abandoned dog at a train station. He takes him home, but when his wife Cate (Joan Allen) is less than thrilled with the newcomer, Parker promises to find out who the dog belongs to. She relents however, when she sees the special bond that develops between Parker and the dog, whom they name Hachi.

Every day, Hachi shows up at the train station to greet Parker when he returns from work. However, when Parker dies, Hachi continues to wait every day at the train station for him.

Based on the Japanese film Hachiko.