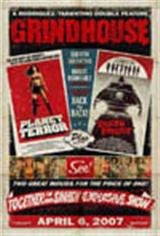 Grindhouse Double Feature
Grindhouse Double Feature
Two of the most renowned filmmakers go back to back with Grindhouse, a double dose packed to the gills with guns and guts. The unprecedented project from the longtime collaborators presents two original, complete films as a double feature. Inspired by the unique distribution of independent horror classics of the sixties and seventies, these two shockingly bold features are presented together on a drive-in style double bill, replete with fake trailers, missing reels and plenty of exploitative mayhem.

In Robert Rodriguez's Planet Terror, married doctors William and Dakota Block (Josh Brolin and Marley Shelton) find their graveyard shift inundated with townspeople ravaged by gangrenous sores and a suspiciously vacant look in their eyes. Among the wounded is Cherry (Rose McGowan), a go-go dancer whose leg was ripped from her body during a roadside attack. Wray (Freddy Rodriguez), her former significant other, is at her side and watching her back. Cherry may be down, but she hasn't danced her last number. As the invalids quickly become enraged aggressors, Cherry and Wray lead a team of accidental warriors into the night, hurtling towards a destiny that will leave millions infected, countless dead, and a lucky few struggling to find the last safe corner of Planet Terror.

In Quentin Tarantino's Death Proof, dusk offers Austin's hottest DJ, Jungle Julia (Sydney Tamiia Poitier), an opportunity to unwind with two of her closest friends, Shanna and Arlene (Jordan Ladd and Vanessa Ferlito). This three fox posse sets out into the night, turning heads from Guero's to the Texas Chili Parlor. Not all of the attention is innocent: Covertly tracking their moves is Stuntman Mike (Kurt Russell), a scarred, weathered rebel who leers from behind the wheel of his muscle car. As the girls settle into their beers, Mike's weapon, a white-hot juggernaut, revs just feet away...
| | |
| --- | --- |
| Cast: | Kurt Russell, Rosario Dawson, Mary Elizabeth Winstead, Rose McGowan, Danny Trejo, Freddy Rodriguez, Josh Brolin, Marley Shelton, Michael Biehn, Naveen Andrews |
| Director: | Robert Rodriguez, Quentin Tarantino |
| Studio: | The Weinstein Company |
| Producer(s): | Robert Rodriguez, Elizabeth Avellan, Quentin Tarantino |
| Writer(s): | Robert Rodriguez, Quentin Tarantino |
| Official Site: | www.grindhousemovie.net |