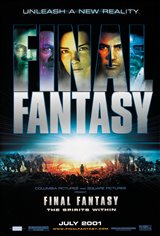 Final Fantasy: The Spirits Within
Set on Earth in the year 2065, destruction and confusion surround the human populace. Cities are deserted, the population is decimated, and the precious few humans who remain must find a way to survive. The cause of all the confusion is an alien presence which sucks the life out of any living thing it touches.

Dr. Aki Ross (Ming-Na) and her mentor, Dr. Sid (Sutherland) are searching for a way to save the Earth before it's too late. Their rival, General Hein (Wood) wants to shoot a beam into a crater containing the source of the aliens which they believe will only harm the life-force of the Earth. Aki and Sid have a theory that the combination of eight spirits located around the world will destroy the alien menace without harming what's left of the world.


| | |
| --- | --- |
| Cast: | Alec Baldwin, Steve Buscemi, Donald Sutherland, Ving Rhames, James Woods, Ming-Na Wen, Peri Gilpin |
| Director: | Hironobu Sakaguchi |
| Studio: | Columbia Pictures |
| Producer(s): | Akio Sakai, Chris Lee, Jun Aida |
| Writer(s): | Al Reinert, Hinrobu Sakaguchi, Jeff Vintar |
| Official Site: | www.finalfantasy.com/ |