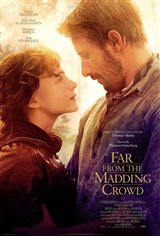 Far From the Madding Crowd
Far From the Madding Crowd
Independent, beautiful and headstrong country heiress Bathsheba Everdene (Carey Mulligan) has three very different suitors: Gabriel Oak (Matthias Schoenaerts), a sheep farmer, captivated by her fetching willfulness; Frank Troy (Tom Sturridge), a handsome and reckless Sergeant; and William Boldwood (Michael Sheen), a prosperous and mature bachelor.
Bathsheba considers herself to be intellectually superior to all three, but when she finally drops her haughty attitude, she's able to be open to a man's love.
Based on the beloved novel by Thomas Hardy.