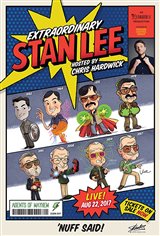 Extraordinary: Stan Lee
This once-in-a-lifetime tribute to the career of the legendary Stan Lee, who created characters such as Spider-Man, the X-Men and Doctor Strange, is broadcast live via satellite in HD from the Saban Theatre in Los Angeles on August 22, 2017 only.
The general public will have the opportunity to celebrate and take a look back at the Marvel Comics legend's life and storied career. Hosted by Chris Hardwick, the approximately 90-minute theatrical screening of this event will take a nostalgic look at the life of this icon, similar in sentiment to "This is Your Life," encompassing events from different periods of Stan Lee's life from growing up in Brooklyn to his first job, and finally, his present day success.
Celebrity guests include Channing Tatum, Zoe Saldana, Tom Bergeron, Michael Rooker, major comic book artist Todd McFarlane, and many more to give thanks through retrospective segments that will bring to light how Mr. Lee has influenced and inspired countless lives and creative endeavors. The show will also feature never-before-seen personal photos and home videos on large screens, and other multimedia experiences throughout. Audience members will have the opportunity to join in the experience with the 1,800 attendees in Los Angeles by tweeting live questions to Stan himself.
| | |
| --- | --- |
| Cast: | Stan Lee, Channing Tatum, Pom Klementieff, Chris Hardwick, Zoe Saldana, Tom Bergeron, Michael Rooker |
| Director: | Jonathan Josell |
| Studio: | BY Experience |
| Producer(s): | Cat Josell, Jonathan Josell, Darren Passarello |
| Writer(s): | Cat Josell, Jonathan Josell, Darren Passarello |