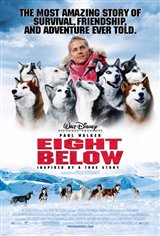 Eight Below
The fierce Antarctic winter is just setting in when an intrepid team of explorers and scientists on a research mission -- survival guide Jerry Shepard (Paul Walker), his best friend and cartographer Cooper (Jason Biggs) and the rugged geologist Davis (Bruce Greenwood) -- just narrowly escape a fatal accident, thanks to their steadfast team of eight skilled sled dogs.

Forced to evacuate, the men must leave the beloved dogs behind in the frozen wilds -- with a promise they will return. But when the storm of the century approaches, cutting off all means of travel, the dogs are stranded. Now, as the intelligent, courageous dogs -- including noble pack leader Maya, rambunctious rebel Shorty and rising young alpha-in-training Max -- fight to make it through the most unforgiving winter on the planet, the heartbroken Jerry is driven to mount a seemingly impossible rescue mission, aided by a beautiful and adventurous bush pilot, Katie (Moon Bloodgood).

Held together only by unwavering bonds of friendship, the humans and the dogs alike make a remarkable journey of grit, endurance and belief to find one another again in this spectacular but perilous land.