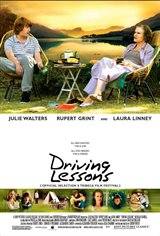 Driving Lessons
Ben (Rupert Grint), a shy, bookish 17-year-old, begins a very unpromising summer vacation. While the other kids are out having fun, Ben spends these precious few weeks attending bible classes, having driving lessons with his overbearing and overly religious mother (Laura Linney) and helping out at a local old people's home. It's certainly not his ideal summer but, with a demanding, vigilant mother and a passive vicar for a father, Ben is anything but in control of his own destiny.

Ben's absurdly straitlaced world is turned upside down when he gets a job assisting Evie (Julie Walters), an eccentric retired actress. Vulgar, dignified and childish all at once, Evie enters Ben's life with a cataclysmic force. Suddenly caught between two worlds, Ben starts to gravitate towards his employer's unconventional and often bizarre ways, even though it continually gets him into trouble with his mother.

Evie drafts Ben as her partner in a series of adventures, culminating in a camping trip that turns into a road trip when she cajoles unlicensed Ben into driving her to the Edinburgh Festival. Ben reluctantly ignores his conservative instincts and jumps behind the wheel.

What follows is a journey in which Ben and Evie help each other move forward in their radically different lives, as Ben is forced to confront how he was brought up and who he wants to be.