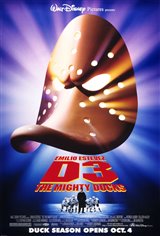 D3: The Mighty Ducks
After their win as Team USA at the Junior Goodwill Games in California, the Ducks are given scholarships to a prestigious private school, where they'll join the hockey team. However, they feel they don't fit in with the rest of the students, especially the players on the Varsity team, who go out of their way to make the Ducks feel unwelcome.
Coach Orion (Jeffrey Nordling) is strict with the team, first taking away Charlie's (Joshua Jackson) status as captain, and drilling them mercilessly. When the first game they play finds them with a 9-0 lead, only to have it quickly dissolve into a tie by the end of the third period due to their lack of defense, their scholarships are in jeopardy.
| | |
| --- | --- |
| Cast: | Emilio Estevez, Joshua Jackson, Jeffrey Nordling, Joss Ackland, Elden Henson, Matt Doherty, Marguerite Moreau, Michael Cudlitz, Kenan Thompson |
| Studio: | Walt Disney Motion Pictures |
| Producer(s): | Jon Avnet, Jordan Kerner |
| Writer(s): | Steven Brill, Jim Burnstein |