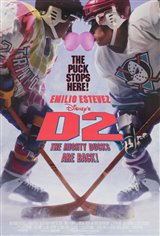 D2: The Mighty Ducks
After a stint playing in the minor leagues, Gordon Bombay (Emilio Estevez) returns to coach the Ducks when they're invited to compete as part of Team USA at the Junior Goodwill Games in California.
Longtime Ducks team captain Charlie Conway (Joshua Jackson) returns with members of the team as they incorporate five new members from other states into their ranks. Once Gordon gets over the perks of the job, including a rental on the beach and endorsements, the team settles down to the business of having fun and winning. But the other top team is Iceland, led by a former NHL player whose ethics were questionable, and after an initial game with them, Gordon realizes he needs to change up his tactics in order to win against them.
| | |
| --- | --- |
| Cast: | Emilio Estevez, Joshua Jackson, Jan Rubes, Kathryn Erbe, Michael Tucker, Carsten Norgaard, Elden Henson, Matt Doherty, Marguerite Moreau, Colombe Jacobsen, Kenan Thompson, Kareem Abdul-Jabbar |
| Director: | Sam Weisman |
| Studio: | Walt Disney Motion Pictures |
| Producer(s): | Jon Avnet, Jordan Kerner |
| Writer(s): | Steven Brill |