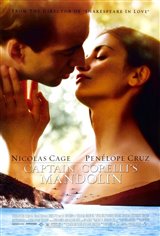 Captain Corelli's Mandolin
Captain Corelli's Mandolin
On the Greek island of Cephallonia, tradition and simplicity is the norm and where people love their land. But their peace and tranquillity will come to an end with the coming of the second world War.

The lives of Pelagia (Cruz) her father, Dr. Iannis (Hurt) and her betrothed (Bale), are forever changed with the war that crashes onto their shores and the Italian army which has been assigned to occupy their once peaceful village.

A conscripted officer of the occupying Italian army is Captain Antonio Corelli (Cage) who falls for the strong-willed Pelagia. At first she and the other villagers resist the army. But soon the charm and passion of the Italians wear away the divisions of nationality. Pelagia also finds herself falling for Antonio, but their new found love is threatend with the inevitable war that must tear the two apart.