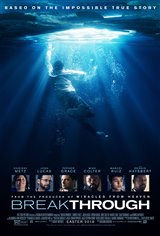 Breakthrough
| 146 Reviews
Write a Review
In Theaters: April 17, 2019
On DVD/Blu-ray: July 16, 2019
PG | Drama | 1h 56m
Breakthrough
When John Smith (Marcel Ruiz), the 14-year-old son of Joyce Smith (Chrissy Metz), falls through the ice on a frozen lake in Missouri, despite almost 30 minutes of CPR, he is pronounced dead. As John remains motionless for almost an hour in the hospital, Joyce prays at her son's bedside and is stunned when she discovers his heart has begun to beat again.

With the help of the town's new hip pastor Jason Noble (Topher Grace), Joyce struggles to understand this unbelievable phenomenon and the power of faith that brought her son back to her once again.

Based on Joyce Smith's 2017 memoir, The Impossible: The Miraculous Story of a Mother's Faith and Her Child's Resurrection.