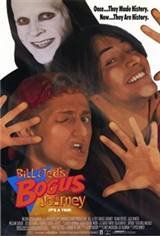 Bill & Ted's Bogus Journey
Everything's excellent for everyone's favorite surf-speaking dudes! With their own apartment, a pair of bodacious princess babes and a spot on the upcoming "Battle of the Bands," life couldn't be any better!
But all that goes down the tubes when Bill (Alex Winter) and Ted's (Keanu Reeves) evil robot twins kill the San Dimas duo and then take over their lives!Replaced on Earth by the bogus robots, the real Bill and Ted embark upon a most unwanted expedition - straight to Hell! Can Bill and Ted cheat death, save the world from evil, rescue the princess babes and be back in time to win the "Battle of the Bands"? Or will their heinous metal twins change the duo's destiny forever?
| | |
| --- | --- |
| Cast: | Keanu Reeves, Alex Winter, William Sadler, Pam Grier, George Carlin, Joss Ackland, Amy Stock-Poynton, Jim Martin, Hal Landon Jr., Annette Azcuy |
| Director: | Peter Hewitt |
| Producer(s): | Scott Kroopf |
| Writer(s): | Chris Matheson, Ed Solomon |