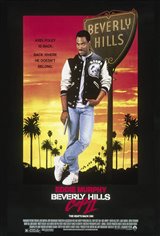 Beverly Hills Cop II
Detroit cop Axel Foley (Eddie Murphy) has seemingly smoothed out his differences with his Beverly Hills superior Bogomil (Ronny Cox), but there's trouble ahead for both men, not to mention two other holdovers from the first film—officers Rosewood (Judge Reinhold) and Taggart (John Ashton).
The untouchable heavy this time out is masterminding a series of violent robberies, committed by leather-freak hoods Chip Cain (Dean Stockwell) and Karla Fry (Brigitte Nielsen). Unaccumstomed to this nastiness, Bogomil entreats street-smart Foley to help find the miscreants. But mean-spirited chief of police Lutz (Allen Garfield) will brook no interference from outsiders—especially the profanely insouciant Mr. Foley.
| | |
| --- | --- |
| Cast: | Eddie Murphy, Judge Reinhold, Ronny Cox, Dean Stockwell, Brigitte Nielsen, John Ashton, Allen Garfield, Paul Reiser, Paul Guilfoyle |
| Director: | Tony Scott |
| Studio: | Paramount Pictures |
| Producer(s): | Don Simpson, Jerry Bruckheimer |
| Writer(s): | Larry Ferguson, Warren Skaaren |